Healing Crystal Collections
Crystals speak to the child within, and invite us to stop and allow the pure flow of energy to refresh and revitalize us. Each crystal in our collection is one of a kind. We hope you discover and enjoy your unique crystal today!
Crystals express the unity of the four elements in their very being. Growing in the Earth, they suggest the mineral evolution of the planet. By their ability to transmit a piezo-electric charge, they are natural expressions of Fire. Crystals are related to Water in both their molecular structure and their ice-like appearance. And just as Air lets light pass through its clarity, so do crystals.
BONUS Download a FREE PDF of Properties-of-Quartz-Crystal-Formations . Use it to explore your own crystals and discover their special attributes!! (Download then open in Adobe)
Crystals with individual ID numbers are one of a kind crystals. Ordering multiple quantities of a single unique crystal may result in our substitution of available, equivalent crystals for the one unique crystal of which you ordered multiples. In addition, if you order a crystal that is marked SOLD, we will substitute an equivalent for the no longer available crystal when possible.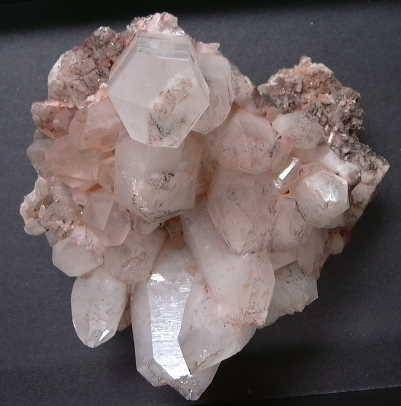 Tibetan Quartz Crystals
hold sacred energy frequencies and the wisdom of the ancient culture.

We offer Zeolite
crystal clusters. These special volcanic crystals are know for absorbing and removing toxins and negative energy.
Crystals have been used for healing throughout the ages. Gemstones were embedded in armor for protection, and in crowns for their beauty and power. Today, healing with crystals is used in energy work like Reiki and body work like massage. Even if the healing power of crystals comes only from belief, we know that belief is a very powerful aspect of all healing.
Bonus Article
Natural crystals and gemstones
have been used throughout history for their healing properties. Warriors used crystals and gemstones on their armor. Healers made elixirs from natural crystals and gemstones. Kings and Queens wore crystal and gemstone jewelry not only for their beauty, but for the natural healing energy they provided.
Now, a modern skeptic may say that it is impossible for a natural crystal to have any healing properties. Consider the science. Crystals transmit a piezoelectric charge which does affect the body's biomagnetic fields. Crystals reflect and refract light, and light rays such as far infrared and ultraviolet are used to both heal and disinfect the body. And somehow crystals carry information or else every computer in the world would not have a silicon (crystal) chip inside. Even from a scientific standpoint, it seems possible that natural crystals can influence physical functioning.
Let us also talk about beliefs. There is an old saying that what you believe is true for you. Every crystal and gemstone has a legend about it that speaks of its natural healing abilities. Rose quartz crystal is said to influence Love. Amethyst crystal, wisdom. Smoky quartz absorbs negativity, and on and on?. If I am looking for Love, and I carry or wear a natural healing rose quartz crystal and find Love, no one can say for certain whether the crystal, or my belief in the crystal, found Love for me. That's the power of beliefs.
The beauty of natural crystals is next in our discussion. When we see or hold something that is beautiful, we relax. There is an "ahhhh" moment. Our attention is focused on the beauty and away from our worries and fears. This moment is very healing because we have turned off the sympathetic nervous systems "fight or flight" response and engaged the calm, relaxed parasympathetic system. Our entire body relaxes. It has been said that stress accounts for over 90% of all illness and accidents. One moment without stress heals.
Please note that all crystals are natural stone - slight variations are to be expected.
If you are interested in a certain type of crystal or gemstone, call toll free 888-773-2491
or contact us and if we have it, we'll take a picture and send it to you in an email in .JPG format for your consideration.