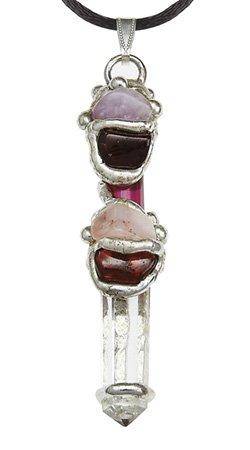 Our Mini (Baby) Gemstone Wand Pendants are Amulets that gift the wearer with properties arising from the frequencies inherent in the collection of gemstones. They can assist in focusing our energies on a specific need, thereby helping to connect us with the healing power we most require.
Our collection of  handmade Gemstone Pendant Wands are crafted by the Reiki Masters at Seeds of Light. Each of their wonderful items is a one-of-a-kind piece hand-crafted with authentic gemstones and lead free "Silvergleem" solder which contains 95% tin and 5% silver. Their artisans lovingly create each piece from a small town in the magical Appalachian mountains of North Carolina. All Mini (Baby) Gemstone Wands are approximately 2 inches long and 1/2 inch wide.  All Mini and Baby Wands have a quartz crystal point and glass upper core and come with a black satin cord and information card.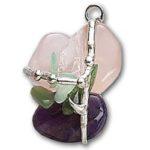 Do You Prefer larger gemstones?  Click here to See our complete collection of Gemstone Amulets by Seeds of Light.