Chakra Stones, Wands and Calcite to Balance your Energy.
Chakra Stones, Wands and Calcite to Balance your Energy.
Energy conducts the life force into and through our minds and bodies at specific locations, called Chakras. These spinning wheels of energy are associated with glands, organs, feelings and thoughts. Add gemstone qualities to your well being. All stones are hand-picked for their energy and unique characteristics.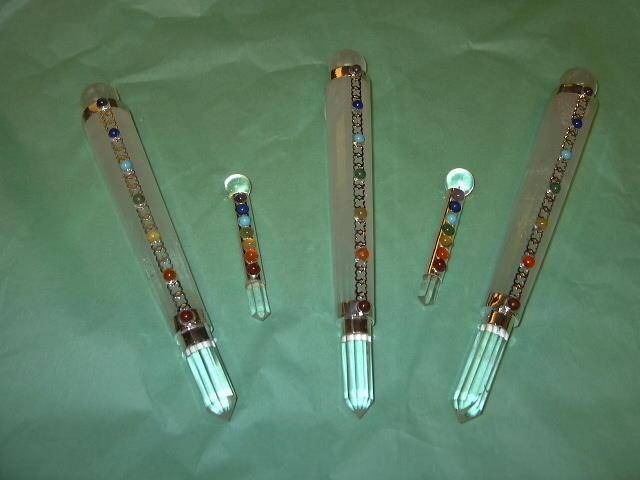 Choose from the large 5 inch crystal wand with chakra gemstones or the smaller, 3 inch "pocket" wand with chakra stones mounted on sterling silver.
The "round" crystal end is used to sooth energy, while the faceted, pointed end directs and focuses energy into specific points. A great energy healing too for yourself or others.
Calcite Healing Kits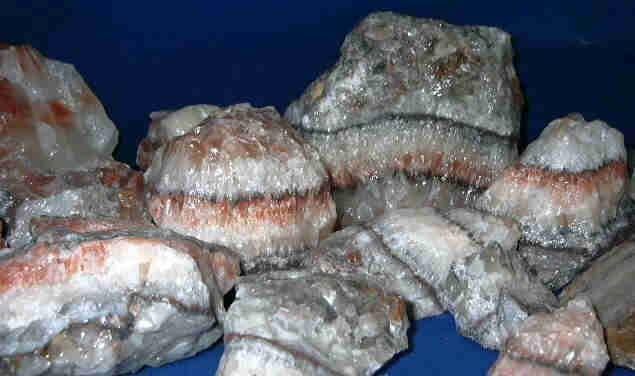 CALCITE is a calming, soothing, stone that lessens fear and reduces stress while sharpening mental abilities and purifying the body and environment. It has been called the premier cleanser of stored negative energies in the human system. Calcite is a building block of lime and marble whose attributes include protecting, grounding and centering. All calcites are good for general health and healing.
The Colors of Calcite
Blue Calcite – the Knowledge Stone – used to attain and retain lessons learned and communicate clearly.
Blue Calcite helps reduce feelings of intensity and overload. It is uplifting, joyful and humorous. It is often used during times of change and uncertainty. Increases the will and opens channels of communication. Physically, blue calcite has been used used for the throat, lungs, tonsillitis, thyroid, arthritis, joints, and high blood pressure and is said to eases pain, especially back pain. Throat chakra.
Green Calcite – the Abundance Stone – increases success and prosperity in business and enhances all healing.
Called the money stone, green calcite brings back double anytime you give. Often used by Native Americans to enhance the Give-Away ceremony. It opens the heart and helps release fears, allowing a more abundant way of life to flow in. Physically, green calcite is said to benefit the heart, thymus, chest, shoulders, and lower lungs as well as being beneficial for healing tumors and other malignancies. It has been associated with balancing the endocrine system and for overcoming addictions and compulsive disorders. Heart Chakra
Soft pink/Red Calcite – Emotional Strength Stone – clams fears and increases inner strength and inner love.
Works with the circulatory system to rejuvenate and revitalize the mind and body. Has been used in love rituals and is known for it is calming, centering and grounding energies. Aids feeling protected emotionally and is said to be beneficial for conditions where detoxification is necessary, such as food poisoning or alcoholism recovery. Root chakra
Orange Calcite – Mental Balance Stone – restores mental and emotional equilibrium.
Sometimes called the philosopher's stone, orange calcite creates a sense of clarity and an attitude of joy. Said to banish worry and anxiety, it has been used for headaches, tired eyes and releasing blocks to kidney and liver functions. 2nd & 3rd chakras.
Honey Calcite – Spiritual Connection Stone – assists in connecting with Higher Self and Higher Wisdom.
Honey calcite is a stone that gently amplifies energy and enhances our connection with our higher consciousness. It makes a wonderful alter stone, connecting with the energies of Universal knowledge and understanding.
We offer calcite healing kits that contain all 5 calcite colors in one kit. All kits include story cards.
The small kit on the left has 5 stones, each about 1.5 – 2″ long. The total stone weight is approx 1 pound
The large stone healing kit on the right contains 5 stones, each 2-3″ long. The total stone weight is approx 2lbs.
STILL LOOKING? CHECK OUT MORE CHAKRA BODY,MIND,SPIRIT BALANCING FROM OUR COLLECTIONS BELOW